Still Aware Online Auction 2021
Still Aware Online Auction 2021
The Still Aware Gala Auction is moving online for 2021!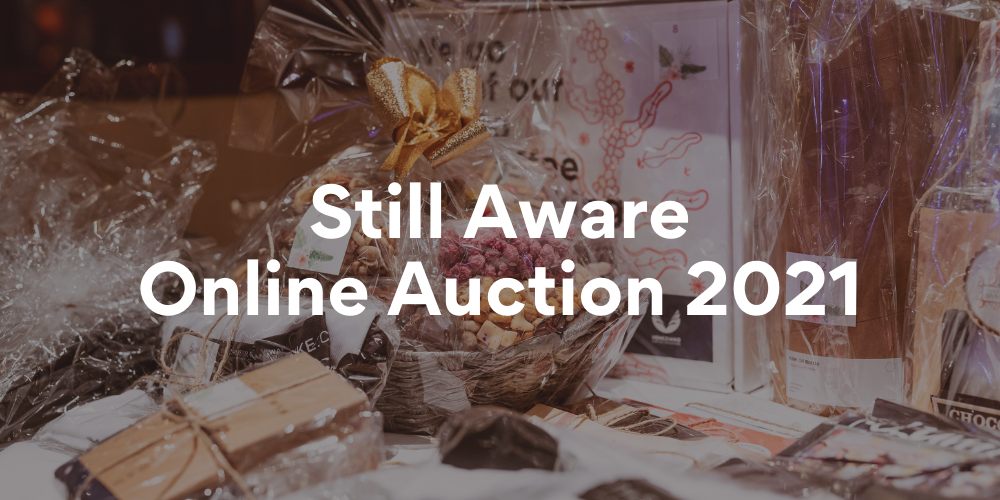 For the first time the Still Aware Gala Auction is moving online!
If you've ever been to a Still Aware Garden Garden Gala you'll know it's our biggest fundraiser of the year. As a non-government funded charity that solely relies on the generosity of our community, the Gala is not only a fantastic event to raise awareness for preventable stillbirth, but helps keep our charity up and running for the years to come.
This year however, things are a little different! COVID-19 restrictions have continued to prove it difficult to plan more than even a week ahead, and as a result, we are now moving the Still Aware Gala Auction online!
When
The Auction will open on Friday the 29th of October at 5pm and will run for 2 weeks till Friday the 12th of November 2021.
Where
The Auction will take place online via the Charity Auctions Today platform. Pre-registration will be open the day prior to the auction going live (Thursday 28th), so you'll have plenty of opportunity to get familiar with the platform before the auction goes live.
Prizes
From holiday packages to retail gifts, vouchers to real experiences, and much more, we guarantee we'll have something for everyone. Bidding will start at only 20% of the $RRP of each item, so there is plenty of opportunities to grab a bargain!
How it works
The Auction will go live on Friday 29th October at 5pm, and during the 2 weeks you'll have the chance to bid on any prizes you wish. The Auction will take place on Charity Auctions Today and pre-registration will open the day before the auction goes live (Thursday 28th). The platform is simple and easy to use, and will provide you with notifications if you've been outbid, or if you've been successful! There are a variety of payment options and all proceeds go back to supporting Still Aware.
Donor list
Below is a list of amazing donors who have chosen to support Still Aware for the 2021 Online Auction.
Charlesworth Nuts
Big Bend by Night
Shingleback Wine Cellar Door
Harvey Norman Gepps X Bedding
McLaren Vale Motel
BBQ's Galore Gepps Cross
Class A
Camilla Designs
Dan Murphy's Marden
Clipboard Art Supplies
Framing World
Bare Basics (Lingerie)
Port Lincoln Hotel
Fasta Pasta Sefton
Mazzone Jewellers
Priceline Pharmacy Firle
Sportsfishing Scene
Clarke Rubber Enfield
Allmake Mowers Edwardstown
Art by Farquhar
Horseland Enfield
Holidays of Australia
Macpac Adventure Hub
Beacon Lighting Gepps X
Karcher Harvey Norman Gepps X Computers
Adelaide Oval Roof Climb
Flowers Everywhere
Maga Fast Karts
Eckermann Group
Trade Link
One Rundle
Seasons of Mama
Wood Nails and Cotton
Secure Parking
This list is growing every day! If you want to support the Still Aware Online Auction 2021 and donate a gift on behalf of your business, there is still time. Just get in touch with Tracey at hello@stillaware.org.
Be sure to keep an eye on our social media pages Facebook & Instagram as we'll be revealing prizes throughout the lead up to the auction!
Still Aware Garden Gala 2020